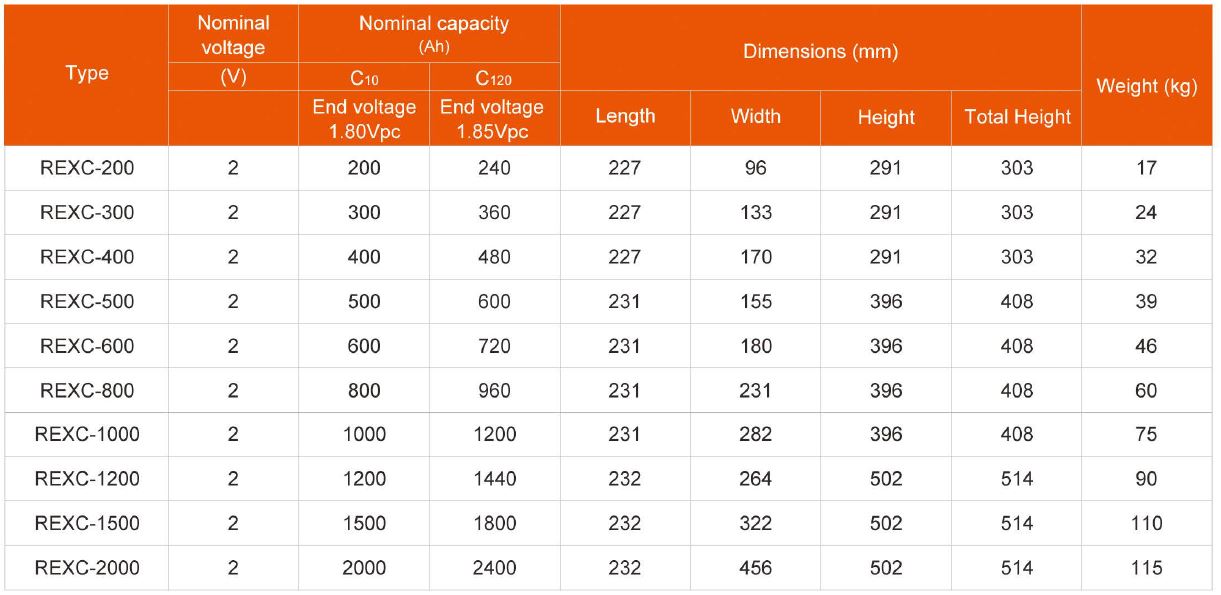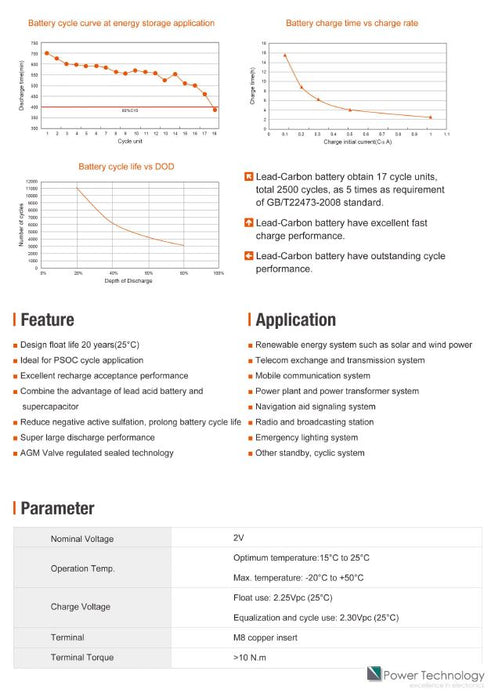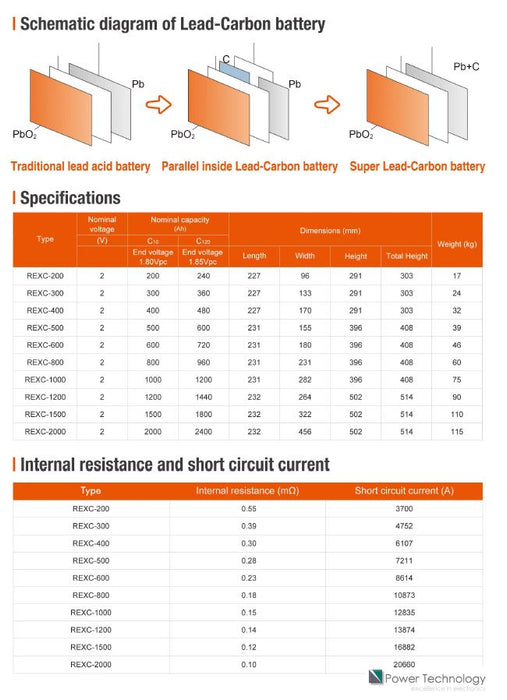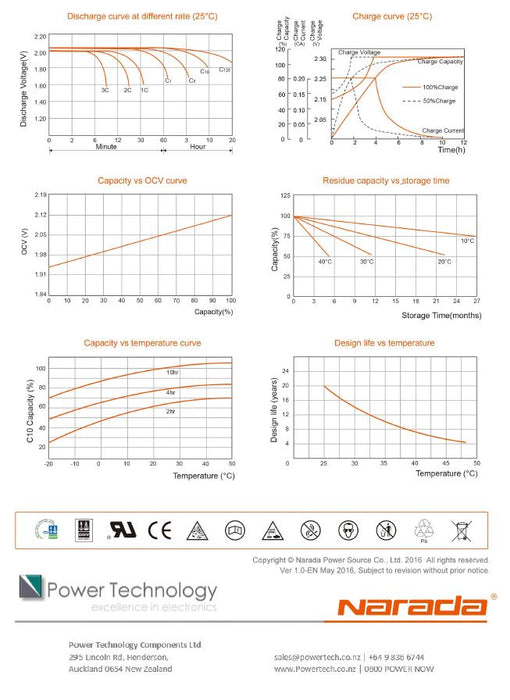 NARADA REXC Series - 2 Volt / 1000 Ah - Deep Cycle Lead Carbon Battery
REXC SERIES LEAD CARBON BATTERIES - 2 Volt Block, 1000Ah C10
Perfect for all 12, 24, 48 & 120 Volt DC Off-Grid and Grid Connected Systems
The REXC series is a high performance, high cycle life lead carbon battery. Combining advanced lead carbon technology & REX VRLA technology, the REXC lead carbon battery offers extra-long cycle life, excellent partial state of charge cycle performance (PSoC) , significantly faster recharge rates and large current discharge performance.
The REXC Series is specifically designed for cycling energy storage systems, including Off-Grid Solar,Grid Connected Solar Hybrid systems & Diesel Battery Solutions.
Specific Racking solutions are available fr standard configurations in 24, 48 & 120 Volt DC, Vertical or Horizontal Mount.
Technical Features:
(Typical values @+25 ºC for batteries stored for one year or less)
 Advanced Lead Carbon Battery
Combines advantages of lead acid battery & super capacitors
Excellent recharge acceptance & super fast charge/large discharge performance
Outstanding PSOC cycle performance
Innovative robust design inside ensures superb safety and reliability
Horizontal installation position for less space, easy installation & maintenance
Self-regulating pressure relief valve with flame arrester
Flame retardant ABS case (UL94 V-0, optional)
Low self-discharge rate
High gas recombination efficiency (>99%)
Complies with IEC, IEEE, UL, EN, CE standards, etc.
Design life at 25°C (77°F): 20+ years (2V), 20+ years (12V)
Application Examples:
Energy storage systems
Hybrid energy systems - solar, wind & Hydro energy
Generator & battery hybrid energy systems
Emergency lighting systems
Demanding standby, cyclic systems
REXC 2 Volt Series General Specifications:
| | | |
| --- | --- | --- |
| Type | Rated Capacity (Ah) | |
| | Capacity @ C10 | Capacity @ C120 |
| | 1.80 Vpc @ 25℃ | 1.85 Vpc @ 25℃ |
| REXC-200 | 200 | 240 |
| REXC-300 | 300 | 360 |
| REXC-400 | 400 | 480 |
| REXC-500 | 500 | 600 |
| REXC-600 | 600 | 720 |
| REXC-800 | 800 | 960 |
| REXC-1000 | 1000 | 1200 |
| REXC-1200 | 1200 | 1440 |
| REXC-1500 | 1500 | 1800 |
| REXC-2000 | 2000 | 2400 |
Please see images for further detail. Datasheet is available HERE
MOQ and Lead Times May Apply, Datasheet Upon Request